Phil Round/Snake River Band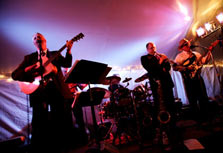 Phil Round has been a singer and guitarist all his life, with short side trips into studying at the Wood's Hole Oceanographic Institute, working as a formation evaluation geologist, and commercial fishing in Ketchikan, AK. He has done post graduate study at the Berklee College of Music in Boston, MA. He formed and fronted the internationally acclaimed band Loose Ties, and toured the world.
All the dude ranches in Jackson Hole know and love Phil's crooning of western songs and ballads. He sings to weeping brides (and their Moms!) while pulling heart strings at wedding ceremonies in the shadow of the Tetons. He's brought houses down at receptions and dance parties with his versatile and exceptionally talented Snake River Band.
This band beautifully and authentically covers every genre of music. People who have hired and heard Phil Round include movie stars, Vice Presidents, Senators and Congressmen, The National Geographic Society, Toyota Corp. of America, Pepsico Corp., and other entities too numerous to mention.
Just a few of the diverse performers Phil has shared the stage with include; Dwight Yokam, David Grisman, Delbert McClinton, James Taylor, Jerry Jeff Walker, Doc Watson, Richard Thompson, and John Prine.

THE SNAKE RIVER BAND FEATURING PHIL ROUND is the region's most sought after dance band for weddings, corporate events or anything that calls for a party. This band covers the gamut of popular music styles, from classic rock and roll including Beatles, Elvis, Rolling Stones and Credence Clearwater Revival; to modern pop hits from artists like Sting, John Hiatt and Eric Clapton; to jazz standards by Gershwin, Sinatra and Ellington; to folk, bluegrass and western music like Sons of The Pioneers, Nanci Griffith and Bill Monroe.
The musicians in The Snake River Band (Derrik Hufsmith on electric guitar, Ed Domer on drums, Ben Winship on bass and mandolin, Don Christensen on keys, David Halliday on saxes) have all toured nationally, made recordings with other bands and worked as studio musicians on an assortment of projects and TV documentaries.  Two of the regular members toured for ten years with the neo-bluegrass band "Loose Ties," and played dozens of major music festivals in the U.S., Canada and South America during that time. Loose Ties made 5 acclaimed CDs, two of which were for the Telluride Music Festival's production company based in Colorado. 
Price Range: $5,500-$8,500 for the Snake River Band, $2,000 and up for Phil Round solo (includes audio production)

World Famous Productions
P.O. Box 41
Teton Village, WY 83025
(307) 222-4719
info@wfproductions.net