Hard work, dedication to their craft and respect for Latin roots and traditions distinguishes Calle Mambo in the American Latin music scene; explaining why this ensemble of talented musicians has rapidly become one of the most sought after musical groups in the region.


Playing fundamentally Cuban styles, Calle Mambo is heavily influenced by the West Coast Latin Jazz and Salsa scene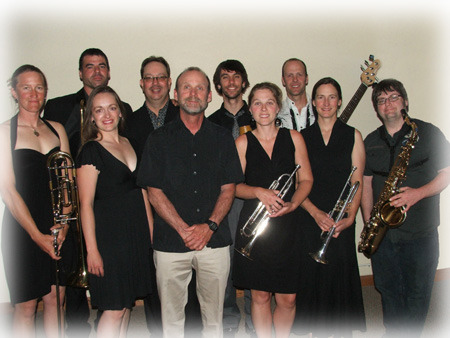 with updated arrangements of classic Cuban and Latin Jazz standards mixed in.  Their catalog features music by Pete Escovedo, Wayne Wallace, Rebeca Mauleon and Tito Puente, as well as contemporary Latin Pop Stars like Marc Anthony and Gloria Estefan. With unique Latin renditions of classic R&B and pop tunes thrown in, Calle Mambo is sure to please every crowd.

Delivering tight grooves from the rhythm section and intricate harmonies from the horns, this dynamic band appeals to audiences ages 5 to 95, inspiring all to move to their exhilarating rhythms! With their well-planned repertoire, Calle Mambo can play any gig from mellow corporate party to high-energy dance club.


If dancing Salsa makes you nervous, Calle Mambo can bring professional dancers to show you the moves and teach you to sway your hips. These dancers lead, teach and encourage the guests before and during the performance.  They add the special touch which makes every event more fun for all!
Calle Mambo can include professional dance instructors to demonstrate the specific Latin dances before and during our performances. It adds a very special touch to our shows.
Donald Gronberg – Percussion
David Bundy – Bass
Laura Huckin - Piano
Rachel Bundy - Trumpet
Jenny Kennedy - Trumpet
John Kidwell - Trombone, Vocals
Liz Sunshine - Trombone
Jason Fritts - Saxophones, Flute
Jeff Bratz - Lead Vocals, Percussion
Christopher Smith – Band Leader, Drums, Timbales

$4,600-$10,000